Upper Secondary School students (10-13) can look forward to participating in the St Julian's Theatre Ensemble as soon as next week. Ensemble sessions will take place after school on Thursdays 3.50 5.20 in the new Black Box Studio /Hall and one other day to be decided after consultation with the PE Department and students themselves. This is likely to be Wednesday or Monday. Some Saturdays will be involved as performance dates approach. Darren Scully and Joanne Scott, new to St Julians, will run the ensemble. Specialist workshops will be integrated throughout the term, by Mr Ehibor, Mr Jürgens, Ms Correia and Mr Payne (also new to St Julians). We look forward to seeing you.


This years ISTA High School festival will take place in Warsaw in January (four days from 29 January to 1 February). Based on the theme of RECONDECONSTRUCTION, the festival is going to be run by some of ISTAs best staff. Those of you who followed the Get Real! Project will know that the American School of Warsaw is one of the best equipped international schools in Europe with a top theatre ensemble. Stephan Jurgens and Darren Scully went last year to run video and dance workshops and were very impressed with the setup. Details of the trip (maximum 12 students per school) will be available from Mr Scully very soon. Think ahead about your involvement because this visit coincides with the THIMUN trip to the Hague.


Middle School students keen to develop their drama skills and see a beautiful city need do no more than get involved with the St Julian's Theatre ensemble, which is planning the trip in March 2004. The American International School of Budapest is a state-of-the-art facility in the hills of Buda just outside the city. Students will stay in host accommodation and take part in a four-day action packed programme of workshops, performances, ensembles and cultural activities. The theme of the festival is the Heart of the City and we will be taking a devised piece to perform there. All those interested can pick up details from Mr Scully.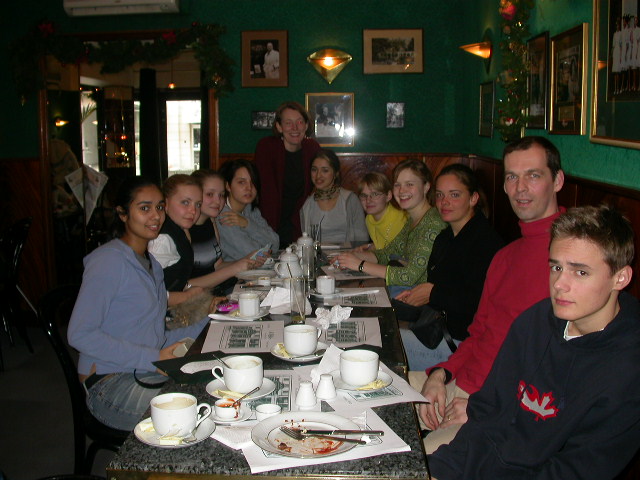 Stephan Jurgens and Darren Scully are given a very warm welcome by the American School of Warsaw